Salesforce Certification Coupon Anyone?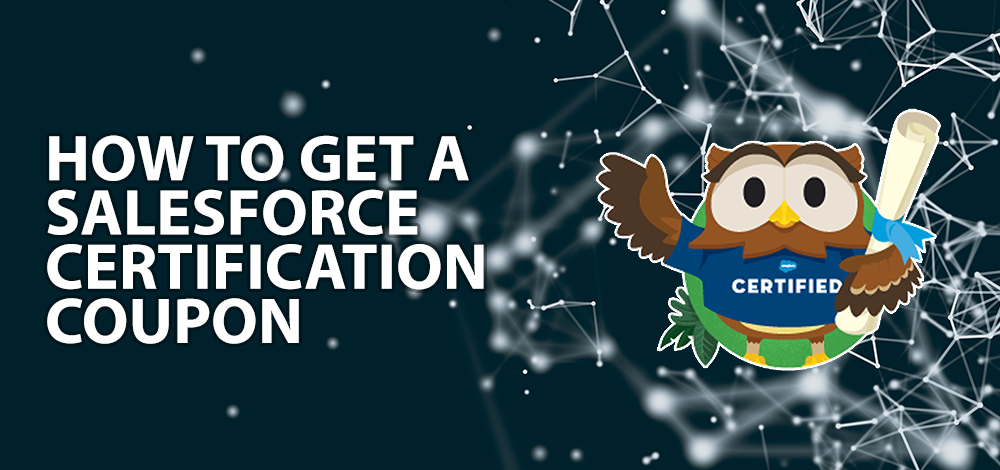 Salesforce certification can be quite costly, but there are ways to get a discount. One way is to get a Salesforce Certification voucher or coupon. There are a couple of different tricks you can do to get your hands on a voucher.
Sign up for a free Certification Prep Classes – $40 Off

Salesforce Prep Classes are short, focused prep classes on a specific Salesforce certification. It's a great way to understand and get some hints and tips directly from Salesforce on things that may appear in the exams. They are not complete courses but at least give you confidence for the exam, and best of all you get $40 off ANY $200 exam during February and March 2022. You will get the Salesforce Certification Coupon at the end of the Salesforce training.
Salesforce has just launched some new prep courses, including:
Administrator Certification
Advanced Administrator Certification
Community Cloud Consultant Certification
Marketing Cloud Consultant Certification
Platform App Builder Certification
Platform Developer I Certification
Sales Cloud Consultant Certification
Service Cloud Consultant Certification
Non-Profit & Charity Discounts – 50% Off
If you work for a Non-Profit or Charity and use Salesforce, you can get 50% off your Salesforce Certification. But this is limited to 5 certifications per person, and you need to email [email protected] from your charity email account to get your Salesforce Certification Coupon!
Trailhead Quests – Free Vouchers
Salesforce runs Quests on Trailhead, and sometimes they give away free vouchers as part of the quests. Make sure you keep an eye out on the quests and if they have any competitions running that could get you a certification coupon!
Win a free Salesforce Certification Coupon
Community Conferences
Most Salesforce Dreamin Events or Community Events are given free certification vouchers for their events, so make sure you sign up to your local community groups for the chance to win. I like to give out a load of free certifications at London's Calling; also, I'd love to see you, so please come along!.
Trailblazer Community Groups

Your local community group can ask for free Salesforce certification coupons from Salesforce and sometimes offer them as prizes! It's worth asking your local group as they may not be aware that they can even ask Salesforce!
Be a Salesforce MVP — Free Certifications!
Salesforce MVPs get free certifications and Training from Salesforce so a great way to get free certifications. I've been using my Salesforce MVP Vouchers for many years and I now have over 20 Salesforce Certifications! Thank you Salesforce!
Salesforce ISV or Consultancy Partners
If you work for a Salesforce Partner, they get an allocation of coupons to give out to their staff. So it's worth asking your manager if you could get one. But partners also are very invested in you getting certified as it improves their partner relationship with Salesforce!
Do you know of any other ways to get Salesforce Certification Coupons?
Post in the comments below if you know of other ways to get discounts on Salesforce Certifications! We'd love to know!
Get notified of Salesforce Certification Coupons & Discounts!
Join our Salesforce Tips & Tricks email and we'll let you know the moment new Salesforce Certification Vouchers become available so you don't miss out!