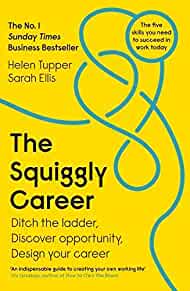 Careers are changing; they are no longer linear and there's no such thing as a 'job for life'. Squiggly careers, where people jump constantly between roles, industries and locations, are becoming the new normal.
Squiggly careers are filled with opportunity and excitement, but they can also be ambiguous and overwhelming if we don't know how to make the most of them.
You're 90 years old on a park bench, what matters to you?
See what others think and post what matters to you
Make your career graph
As mentioned in the video, map out your career graph to help identify your career highs and lows so you can spot themes and identify those values that make you, you! 
Be sure to follow me on LinkedIn and Twitter if you haven't already. I regularly post out Salesforce tips and tricks.
Trailblazer Community Groups are FANTASTIC for meeting people local to you to find out more about local companies and how they use Salesforce and start building your professional Salesforce network.